News: Bournemouth Folk Club Returns On Thursday 20th May With Will Finn & Rosie Calvert
on
May 8th, 2021
at
07:50
at the St Ambrose Church in Westbourne, Bournemouth

After a long hiatus due to the pandemic, the Bournemouth Folk Club returns on the 20th May with a new venue and two new organisers. After the retirement of the much loved Paul Burke and his amazing family, two passionately focused people have taken over Jo Elkington and Leo Mackenzie. These two wondrous souls will be very familiar to many local music fans with Jo's excellent musical photography and Leo's exquisite Cello in bands like Kadia/Fearne along with his latest project "The Last Inklings". Their first show will feature husband and wife duo, Will Finn and Rosie Calvert, are singers first and foremost. Their voices complement in that way family performers do – aural choices made by gut before ear, instinctively knowing when to twist and turn for listener intrigue – honed through years of singing about the house, in the car. Their harmonies live in as close quarters, too, which, of course, is as much down to their being part of a capella quartet The Teacups, favourites of the live folk scene for their rousing performances and patter.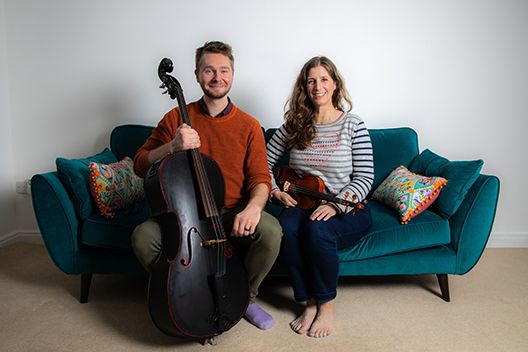 Their approach to orchestration is informed by their singing, too, seeking out the empty spaces and filling them, gently broadening their palette to a deceptively full sound. And it's no mean feat when one of those instruments is a steel pan. It's a self-proclaimed "party of one", the decision to play European folk tunes on an instrument so well known for another, sunnier genre of music, but such is the sensitivity of approach that their debut album, Beneath This Place is far from a novelty or lab for experimentation. Instead, it demonstrates a confidence: taking the tradition and pushing it on; feeling the songs and tunes, and interpreting them with new and different tools to hand.
Will Finn and Rosie Calvert are graduates of the Folk and Traditional Music BA at Newcastle University and have been taking the festival circuit by storm with their a capella harmony quartet The Teacups for the past ten years, performing all over the UK and beyond. Their duo work is met with accolades wherever they go, and their debut album, beneath this Place (which was fully funded following a successful Kickstarter campaign), is being critically lauded as "Distinctive" and "Excellent".
This is the very first show at the new venue St Ambrose Church, Westbourne, Bournemouth BH4 8BE.
THE CONCERT WILL BE SOCIALLY DISTANCED
You can rest assured we take everyone's safety very seriously and will comply with the prevailing the Government's COVID regulations. Key things to note:
•Please only buy tickets for your household or support bubble. You will be allocated a block of seating accordingly.
•Tickets are fully refundable should this event have to be cancelled.
•Tickets must be pre-booked for this event.
•There will be a one-way system in operation in the church.
•You will be required to wear a face covering.
•Due to covid regulations we will not be providing a bar for this event, please bring your own refreshments and take away the debris!
Doors: 7.30pm
Music: 8pm
Tickets are just £12.50 (including 50p booking fee) and available here.
Links
https://bournemouthfolkclub.com
https://www.facebook.com/bournemouthfolkclub
https://willfinnandrosiecalvert.com