News: Social Disorder Release New Single "Love 2 Be Hated"
on
May 8th, 2021
at
07:56
Featuring members of Guns 'n' Roses, Ozzy Osbourne, Whitesnake & more

Anders "LA" Rönnblom, best known as the founder/songwriter for Killer Bee and X-Romance, and a member of Wolfpakk, has just recently launched his new project dubbed SOCIAL DISORDER. The band's debut album, entitled Love 2 Be Hated, will be seeing the light of day on June 18 2021, through AFM Records. Call it a labour of love, as it features Rönnblom opening up his heart and soul: Love 2 Be Hated, takes the listener on a journey through his life including his battle with alcoholism, personal demons, and his way back, all set to a backdrop of music inspired by his earliest influences.
But Rönnblom didn't take this journey on his own, however, choosing to enlist the help of a who's-who of rock and metal greats, many of whom he has a personal connection to including Tracii Guns (Guns 'n' Roses, L.A. Guns), Rudy Sarzo (Quiet Riot, Ozzy Osbourne, Whitesnake), Jeff Duncan (Armored Saint), Dave Stone (Rainbow), Snowy Shaw (King Diamond, Dream Evil, Mercyful Fate), Shawn Duncan (DC4) and Leif Ehlin (Perfect Plan). SOCIAL DISORDER's voice is provided by Thomas Nordin, a previously undiscovered Swedish singer who delivers Rönnblom's songs with power and grit that perfectly captures the era of classic no-nonsense rock!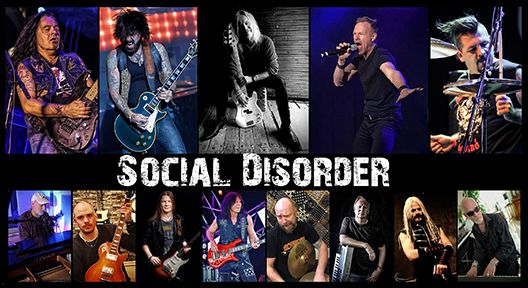 After SOCIAL DISORDER released their first single just recently, the driving rock ballad Windy Road, today the band shared the album title track. "The struggle to get back on your feet.. the lack of trust, people misjudging your true character. Don't be afraid and let your past be the reason for not taking control and changing your life around.. who said it would be easy!?" Says band mastermind Rönnblom about "Love 2 Be Hated". Love 2 Be Hated was produced by Anders LA Rönnblom and mixed by Mårten Eriksson at Fanclub Production in Stockholm, Sweden. The album was mastered by Svante Forsbäck at Chartmakers Audio Mastering in Finland (Rammstein, Entombed, Volbeat, Amaranthe).

According to Rönnblom, SOCIAL DISORDER was never planned to be what it turned out to be. As he got deeper into the songwriting he contacted Tracii Guns, Rudy Sarzo, and Killer Bee bandmate Shawn Duncan about taking part in the recordings. Even though they are his songs and it's his story, Love 2 Be Hated is a team effort, with everyone involved adding their own touch and spice to the songs. In fact, it was important for Rönnblom that everyone involved put themselves into each song.
While Rönnblom also wrote the lyrics to capture the events of his life in music, Love 2 Be Hated is not and should not be regarded as a concept album. The goal was to have his story touch people and give the listener something they can relate to.
Album Line Up
Anders LA Rönnblom – Bass & Rhythm Guitar (Killer Bee, X-Romance, Wolfpakk)
Thomas Nordin – Vocals
Tracii Guns – Lead & Rhythm Guitar (Guns N' Roses, L.A. Guns)
Shawn Duncan – Drums (DC4, Odin)
Rudy Sarzo – Bass Guitar (Quiet Riot, Ozzy Osbourne, Whitesnake)
Jeff Duncan – Lead & Rhythm Guitar (Armored Saint, Odin)
Snowy Shaw – Drums (King Diamond, Dream Evil, Mercyful Fate)
Dave Stone – Keyboard (Rainbow, Max Webster)
Leif Ehlin – Keyboard (Perfect Plan)
Johan Niskanen – Lead & Rhythm Guitar (Dust)
Fredrik Tjerneld – Lead Guitar (X-Romance)
Thomas Widmark – Keyboard (X-Romance)
Kenta Karlbom – Drums (X-Romance, Goatess)
Pre-order the album here.
Links
https://www.facebook.com/OfficialSocialDisorderSweden
https://www.afm-records.de/