News: Sixx:A.M. Announce "Hits" Album Set For October 22nd, 2021 Release
on
August 27th, 2021
at
19:37

Iconic rock band Sixx:A.M.just announced the October 22, 2021, release of their new SIXX:A.M. HITSalbum via Better Noise Music. The project is a retrospective celebration of the band's biggest hits and fan-favorite songs. And, most notably, it includes six unheard songs, marking the band's first official album with new material since 2016. It is available for pre-order and pre-save now.

The album will arrive three days after the highly-anticipated release of iconic Sixx:A.M.and Mötley Crüefounding member and music legend Nikki Sixx's new memoir THE FIRST 21: How I Became Nikki Sixx. One of the new songs included on the album is also titled "The First 21," with its lyrics being inspired by the captivating content of the book. Now in his 21st year of sobriety, Sixx is incredibly passionate about his craft and wonderfully open about his life in rock and roll. He is globally recognized for his work with people in recovery and has been passionately vocal about the disastrous social effects of the opioid crisis in the USA and worldwide. In the memoir, Sixx, already a three-time New York Timesbest-selling author, tells the inspirational story of his first 21 years, how Frank Feranna became Nikki Sixx. The book fills in the earlier parts of Sixx's fascinating true-life story, which fans have partly come to know through Mötley Crüe's widely-celebrated collaborative autobiography The Dirt which was most recently adapted into a hit biopic by Netflixin 2019. The First 21 also continues Sixx's tradition of setting the soundtrack to his own life, combining his work as a writer and a musician to offer multi-layered pieces of art.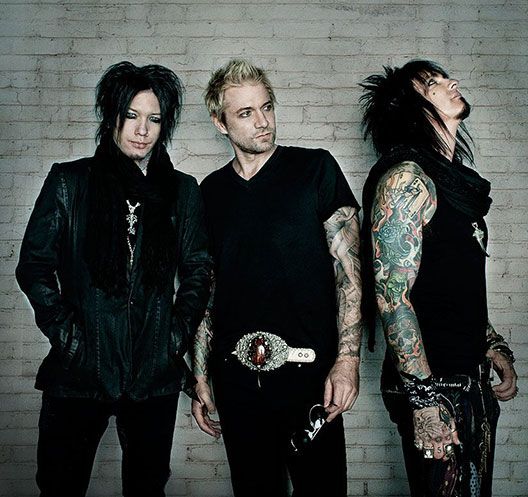 In 2007, Sixx:A.M. released The Heroin Diaries Soundtrack, which acts as a companion piece to Sixx's best-selling memoir The Heroin Diaries: A Year in the Life of a Shattered Rock Star, released the same year, introducing the concept of a book soundtrack into popular culture. Both the book and the album were successes upon release, with the book instantly becoming a New York Times-best seller in its first week, selling out in bookstores around the U.S. The album spawned the #1 single "Life Is Beautiful,"while simultaneously receiving critical acclaim and eventually achieving Gold certification in the U.S. IGN praised its effectiveness as a concept album, writing, "[It's] not really an album but rather a musical book. It is almost impossible to recommend any specific songs over others." Expanding this artistic signature move by Sixx, The First 21will now get its own soundtrack with the forthcoming 'HITS' album.
Sixx:A.M. Hits Standard Tracklisting
Life is Beautiful
This is Gonna Hurt
Lies of the Beautiful People
Pray for Me
Rise
Stars
Maybe It's Time
Skin
Belly of the Beast
Are You With Me Now
Girl with Golden Eyes
Accidents Can Happen
Gotta Get it Right
We Will Not Go Quietly
New Bonus Tracks
The First 21
Talk to Me
Penetrate
Waiting All My Life
Skin – Rock Mix
Life is Beautiful – piano vocal

It's a universal truth that true artists will always busy themselves creating, and that truly great artists will always find an audience for that work. It is little surprise then that despite storied individual histories playing in and working with some of the most iconic bands ever to have walked the planet, Nikki Sixx, Dj Ashba and James Michael—collectively known as SIXX:A.M.— are set to unleash a collection of their hits featuring new material onto their forever loyal fan-base, that has already taken them firmly to their hearts.
Sixx:A.M., an American rock band from Los Angeles, California, formed in 2007, is best known for their #1 hits, "Life Is Beautiful" and "Lies of the Beautiful People". The name Sixx:A.M. is a combination of all of the members' last names (Sixx, Ashba, Michael).
To date Sixx:A.M. have three U.S. Billboard top 20 albums and a string of hit singles already under their belts, with their full catalogue consisting of five studio albums: The Heroin Diaries Soundtrack (2007), This Is Gonna Hurt (2011), Modern Vintage (2014) Prayers for the Damned and Blessed (2016), and three EPs; X-Mas In Hell (2008); Live Is Beautiful (2008) and 7 (2011).
SIXX:A.M. Hitsis a collection of songs that will fire up both the head and heart in equal measure – a band who found their true sound and producing art that refuses to be led by anything but their own desires.
From the songwriting and musicianship to James Michael's production and mixing and Dj Ashba's captivating artwork, Sixx:A.M. have crafted a style in music as much of a mission statement for the band as it is an impassioned call to arms.
Links
http://www.sixxammusic.com
https://www.facebook.com/sixxammusic