News: Velvet Starlings Release Their Fabulous New Single "She Said (She Said)"
on
August 27th, 2021
at
19:31

L.A. based garage rock 'n' rollers Velvet Starlings have been busy over the last few months releasing 2 singles, both with accompanying videos "Back Of The Train" and "Technicolor Shakedown". Now, they are readying themselves for single number 3 – "She Said (She Said)". This single will be released digitally via Golden Robot Records on the 1st of September.

VELVET STARLINGS invite you to "Les Beach Party" with their rambunctious and raucous garage rock anthem, "She Said (She Said)".  It's the third and latest track from their debut album Technicolour Shakedown. This song is rooted in the 60's, with a signature Doors style organ riff, then quickly taking a left turn into a frenzied "beach fuzz" garage punk territory. It tells a youthful tale of instant attraction, coupled with the excitement, energy, and adrenaline of "cutting a rug" on the sweaty dance floor of a California house party, 'till the morning sun rises over the crystal blue water.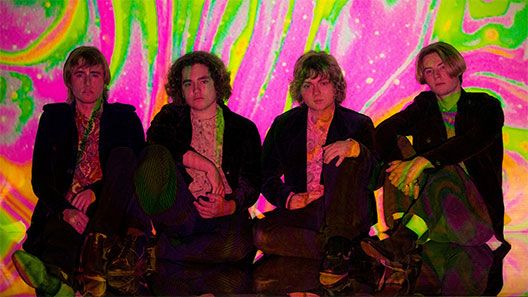 Velvet Starlings is a 60s infused garage rock 'n' roll band hailing from Los Angeles and the beach cities of Southern California. They are becoming a staple in the blossoming neo-psychedelic garage rock scene on the West Coast, with several tours under their belt, internationally and across the country.
The band was founded by young lead singer, guitarist & organ player Christian Gisborne who is known for his dynamic live stage performance, concert attendance record and impressive Lego collection. Velvet Starlings is rounded out by brothers, drummer Foster Poling and bassist Hudson Poling, with the new addition of long-time school friend, the always "stoked" & awesome Ashton Minnich on second guitar. With so much love and music to give, you won't want to miss Velvet Starlings!
Links
https://www.facebook.com/VelvetStarlings
https://www.instagram.com/velvetstarlings