Just in time for Xmas those Midlands fun-Punkers Dirt Box Disco are back with the most un-Xmas single yet. To give it its full title "Fuck Me It's All Gone Wrong" opens with a heavy, pounding beat; allied to vomiting guitars and anthemic bellowing of the chorus. It just gets faster and noodlier with real urgency. SV (lead vox/guitar) covers all the verses while the remaining band members bellow out those infectious choruses.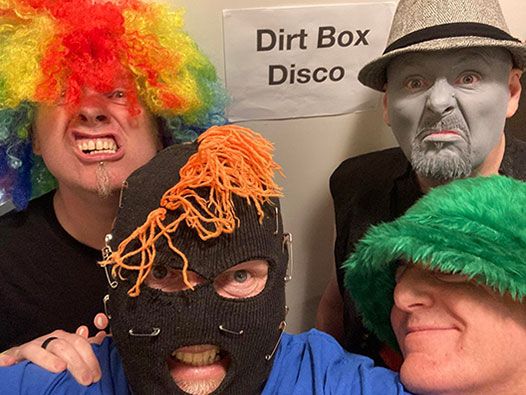 Noodling aplenty in the second bridge only serves notice to up the pace in the latter choruses, before departing on a sharp finale. The expletives count alone is a measure of how much of a return to form this single is – nothing is borrowed from previous material. This single is a must for anyone wishing to blow those Xmas cobwebs away while not celebrating! It's official – they are Dirt Box, they are total Bastards and they're back.
Dirt Box Disco are
Spunk Volcano – Guitars
Maff Fazzo – Drums
Danny Fingerz – Guitars
Deadbeat Chris – Bass Guitar
Links
https://dirtboxdisco.com
https://www.facebook.com/dirtboxdisco
Words by Ross A Ferrone.