South Coast Alt/Rock band "Regional One" has recently released a new EP that brings together some of their stand-alone single releases and new tracks, all into one tidy collection. Frontman Simon Ball explains "we finally get to release something physical; something tangible, something we have created that wouldn't otherwise exist if it weren't for the members of this band putting blood sweat, and tears into this music and for the amazing people all around us who have helped us and encouraged us at any step of the way. We really want to thank anyone who is listening, sharing, and supporting our passion and our music; we hope we can see you all soon!"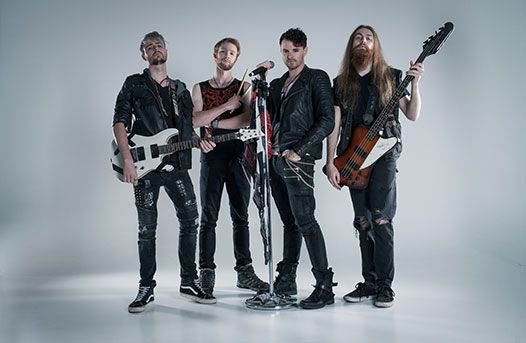 After a scene-setting intro that sees an auctioneer raising his gavel, the EP's title track "Sold" positively bursts into life. A song that describes a hyper-rich; secretive, elite class of individuals bid for the souls of those less fortunate than themselves. The song features a host of Hard Rock/Metal influences and there are now signs that the band are creating their own uniqueness with some innovative guitar work, coupled with heavily punched out rhythms and Simon's powerful vocal delivery. The band has released a well-thought-out and innovative video to go with the song that was filmed locally at Broadstone War Memorial Hall near Poole. It was recorded with the help of a host of fans, featuring cameo appearances from local musicians James Haynes and Russell Starmore. This music video was conceptualized during the lockdowns, during a time where the news was reporting on politicians and celebrities seemingly living by a different set of rules to the rest of the world.

"Smoke it Away" covers familiar relationship territory, that all can more than relate to with an infectious chorus "I want It, I need It, I know you don't believe it, I need her, she needs me and Jane is the only girl for me". It all starts as every great Rock track should, with Stevie's big, bold opening guitar riff; before being joined by some more significant rhythms and Simon's continuing clear, charismatic vocals.

Next up is former single "Dead Silence", which starts off very eerily before the electric guitars create a wall of sound that clearly sounds as if they have ingested some of Synyster Gates DNA. It features some equally crushing rhythms, coupled with some well-laid down keys. One of the standout tracks of this collection is "Chosen"; a track quite different from anything that the band have released before with its smoulderingly slow start, where it meanders along with the opening vocals and starts to build with layers of effect-fed guitar sounds creating it's background. It's a melodic gem that shows some considerable songwriting with lyrics that feature a real depth to them. Next are 2019 singles "Rise" and "Control" before launching into a newer track entitled "Bedlam". It has a Dark/Metal-edged heart, with fast-paced evil-sounding dark guitar chords with wonderfully foreboding horror effect. The track is loosely inspired by the UK's most infamous asylum; with an original 3D animated music video that explores the mind and crimes of our character, trapped within his very own dystopian representation of "The Asylum". The EP fades out gently with an angle grinder and an echoed, eerie-sounding piano played over cello strings.

This collection has brought together the band's back catalogue of recordings and a couple of new tracks to give the listener an idea of what direction they are heading in. There is plenty here for the discerning Rock/Metal fan to enjoy and shows a local band blossoming with a line-up of musicians who each have great individual skills, who when combined together make some fantastic music that's well worth checking out.
Track Listing
Intro
Sold!
Smoke It Away
Dead Silence
Chosen
Rise
Control
Bedlam
Outro
Members
Simon Ball – Vocals
Stevie Lees – Guitar
Callum Mitchell – Bass
Aaron Levens – Drums
Links
https://www.facebook.com/RegionalOneBand
https://linktr.ee/RegionalOneBand
Words by David Chinery (Chinners).