Ep: "You Deserve Everything" by James Haynes
on
December 3rd, 2021
at
20:18

Bournemouth based singer/songwriter James Haynes has recently released a five-track EP titled "You Deserve Everything". The EP looks at life and love from a different angle from some of his previous releases, where he explores his struggle to accept or be in love; whereas the new EP gives the listener the opposite. James explains "it's a collection of songs I wrote dedicated to someone that changed my perspectives on love. That person will always be of great importance to me. One of the songs was written more as a love song for no-one in particular". The EP was mixed and mastered by local musician/producer Scott Farron (Colt 45/Bad Magic/The Wilderpeople) who was also responsible for recording previous release "Galaxies".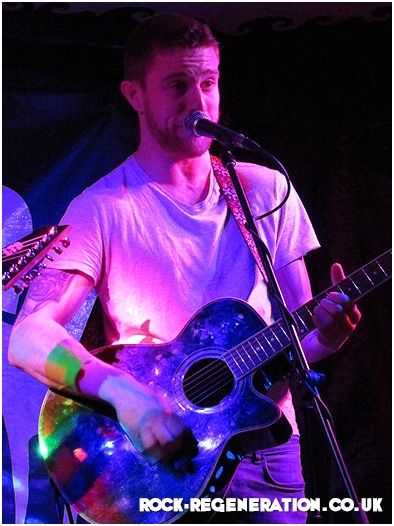 The opening number and lead single from the EP is a track called "Natural"; it shows the simplistic side to James's work with just acoustic guitar, along with light percussion. The lyrics reflect personal experiences within his life and they are sung in a believable passionate way. "My Only" opens with some Cajon percussion before the acoustic guitar meanders and an atmospheric electric guitar takes over. The song features some total heart on the sleeve moments, celebrating the initial connection and how it made him feel. There is a slightly darker side of regret and the ponderings of what might have been. "Next To You" is possibly one of the best tunes that James has written to date, it's tender and really tugs at the heartstrings. Here he delivers a wonderfully intimate vocal over the uncomplicated gently plucked strings.
"Missing Piece" is another gem of a track, where James shows how far he has come since taking up the guitar only a few years back in 2017. The song has a lingering intro; the guitar and creative rhythms start, before continuing with some more atmospheric effects. The EP signs off quite aptly with "Yours Faithfully". At times it feels like the lyrics are a valentines card and there is a real hope that the fractured nature of the relationship can be healed, despite what has gone on in the past. It also feels that this is a collection of songs he's put to bed in this part of his life, a collection of songs that needed to be expelled and recorded as a benchmark.
James is a talented guy who can certainly write some great lyrics, I feel though that he needs to be much more experimental with his subject matter and his creative process. It would be great sometimes for him to surprise his audience with music that shows much more of his obvious creative abilities.
Track Listing
Natural
My Only
Next To You
Missing Piece
Yours Faithfully
Video


Links:
https://www.facebook.com/JamesHaynesProject
https://jameshaynesmusic.bandcamp.com
Words by David Chinery (Chinners).