After the release of their debut single "Sovereign" in 2020 and their follow up "Fly High", "Second Knives" have returned to 'Wild Goose Studios' in Wherwell in Hampshire to record their third single release. With veteran producer Doug Bailey at the helm; the Hampshire-based four-piece have created "Liberty"; a song which is a rallying call for all those who feel they don't fit in, celebrating the beauty of our individuality and the freedom that we all need to express it.
At this early stage of the band's creative awakenings, they are showing some fine form, with a distinctive sound beginning to evolve from an eclectic range of influences which include everything from Led Zeppelin and Stevie Wonder to Vulfpeck and Paolo Nutini. Though their music is predominantly Rock there is a characteristic Funky vein running through. While the bass acts as the track's solid backbone; the catchy guitar riffs, rhythmic drum patterns, and Joe's upbeat vocal brings everything nicely together.
As with their previous single Liberty's artwork has a unique comic book style, with the four members of the band mocked up as four superheroes – this was cleverly created by Chris Cooper Wilde and Caitlin Redpath.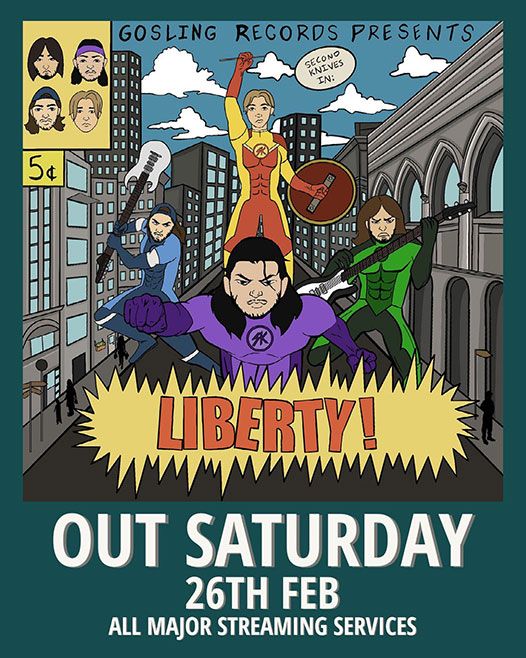 The band has nurtured a dedicated following through appearances on radio stations including radio appearances on Eagles Nest Radio and Edge Radio; with a presence on the grassroots gigging scene playing at a host of venues including Brown Street, The Hobbit, and Under The Edge Arts.
"Liberty" is out February 26th on all major streaming services.
Members
Joe Sartin: Lead vocals and rhythm guitar
John Cooper: Wilde: Lead guitar and backing vocals
Tom Colman: Drums and Mixing
Luke Rea: Bass guitar and backing vocals
Links
https://www.facebook.com/secondknives
Words by David Chinery (Chinners).