Bournemouth four piece Small Talk return with a follow-up from their debut single "Headstart". The new track entitled "Paris", which is out on 13th May; shows this young band using the gifts that were born with to create a tune that takes them on a warp-speed journey out of the Covid 19 pandemic and into a world full of optimism and opportunities.
Frontman Ben Lewis explains "Paris is all about the desperation of wanting a second chance. I'm trying to say that I know it ended badly the first time around but maybe we could try again because we have both changed. It's reliving those memories through rose-tinted glasses which makes it difficult to return to the place where the relationship first blossomed".

The band feels that they are part of a whole new generation on guitar-driven indie bands that formed during the lockdown. With a view of initially beating the boredom and an eye on future aspirations of musical success. It's hard not to like the tune, it features the youthful innocence of first relationships and the hope of something someone older would most probably dismiss.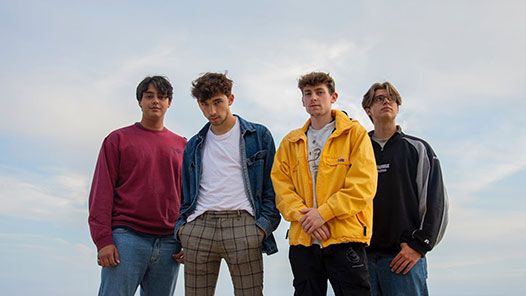 Creatively the band appears to be on the money even at these early stages with catchy hooks along with some nicely put together melodic guitars along with effect-fed atmospheric middle eight. The vocal delivery ebbs and flows emotionally telling the story of those wonderful memories of the couple's time in the city of love. Small Talk are making the right early steps and gaining themselves a few choice supports slots, who knows where this journey will take them.
Small Talk are
Ben Lewis (Vocals and Bass)
Ali Barron (Guitar)
Harry Whitton (Drums)
Jack Babbe (Guitar)
Links
https://www.facebook.com/smalltalk_bnd
Words by David Chinery (Chinners).