News: "Two Worlds Collide" Album Release by October Burns Black
on
July 10th, 2022
at
11:11

International Goth/Rock supergroup 'October Burns Black' have released their debut studio album entitled 'Two Worlds Collide', released on independent label Outland Media. The new album builds on their critically acclaimed EPs released in 2018 and 2019 and cements their position as one of the leading forces in the Gothic Rock movement.
The band whose members have long and distinguished track records in the Goth scene with roots across the world, are fronted by vocalist Rod Hanna (Return to Khaf'ji); with his brooding and menacing tones binding seamlessly with James Tramel's (The Wake, US) spellbinding bass-playing. Completing the rhythm section is Simon Rippin (Nefililm, Fields of the Nephilim and The Eden House) on drums, providing the backbone to this ten-track totem to the world's ills. Providing melody and enchantment on guitars are Lars Kappeler (Sweet Ermengarde) and Tommy Olsson (Long Night, The Morendoes, Elusive), with additional guitars by Gordon Young.

Two Worlds Collide was conceived, written and recorded in the death throes of the "New World Order". Characterised by violent shifts in political, economic and societal tectonic plates the album encapsulates the external and internal friction wrought by fundamental changes to relationships on many planes. The soundtrack to the bleakness is beautifully enhanced by the ever faithful and precise hand of Billy Phobia, who has artistically interpreted the themes with disturbing accuracy.
The album is a dark and powerful slice of Gothic Rock with its influences coming from the UK's early 1980's Post/Punk bands; where Bauhaus, Sisters of Mercy, The Mission, Fields of The Nephilim and Siouxsie and the Banshees took centre stage during the movement. 'October Burns Black' have taken many of these band's elements and capitalized on the dark atmospheric sounds, creating a modern gothic sound for current times. With big driving basslines; effect-driven guitars, a huge drum sound, and melancholy vocals with the band combining all their previous musical experiences beautifully together.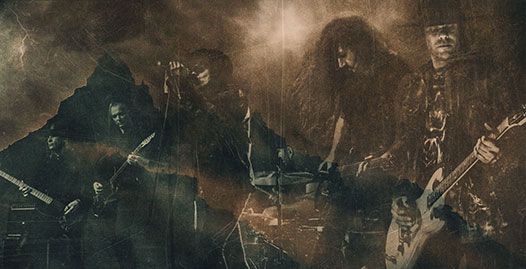 "Black Veil" finds Rod's inner Andrew Eldritch with more than a nod to the Leeds 'Super Goths' vocal delivery. "The Grand Leveller" is one of the standout tracks that delivers in all areas and the band here begins to show themselves to be more than capable of carving out their own unique visions. This also is featured in "Condemned" and the title track "Two Worlds Collide" with some wonderfully creative guitar soundscapes that hauntingly shimmer through the shroud of dark rhythms. October Burns Black with these 10 impressively crafted tracks could well ignite the interests of a whole new audience. You can just imagine that when these tunes are played live in front of an audience; on a stage shrouded in dry ice, they atmospherically burst into life.
Track Listing
Divide and Conquer
Black Veil
Tightrope
Regress
Fickle
The Grand Leveller
Blind Faith
Condemned
All I Never Wanted
Two Worlds Collide
October Burns Black are
Rod Hanna – Vocals
Lars Kappeler – Guitar
Tommy Olsson – Guitar
James Tramel – Bass
Simon Rippin – Drums
Additional guitars by Gordon Young
Production and mixing: Simon Rippin
Mastering: Gordon Young
Artwork: Billy Phobia
Links
http://octoberburnsblack.com
https://www.facebook.com/OctoberBurnsBlack
https://octoberburnsblack.bandcamp.com