Following the release of their debut full-length album, Beautiful Life, in 2019, Junior has gone from strength to strength. The shamans of shred (watch their incredible accompanying music video for the reference) have returned with arguably their boldest single yet; "Never Let You Down" is a 70s-inspired pop-rock anthem that boasts stadium potential.
After years of consistent progression in every element of their existence, the Welsh outfit has continuously pushed themselves to reflect on their past releases and perfect their craft. This is evident from the opening melodies and chords, which hark back to the classic "Baba O'Riley" by The Who, clearly showing the band's intent to deliver their familiar modern pop-rock sound, but this time drizzled with tried and tested nostalgia. Even Matt Attard's vocals seem stronger, grittier, and more impassioned than ever, replicating the iconic vocalists that shone during the era they aim to honour.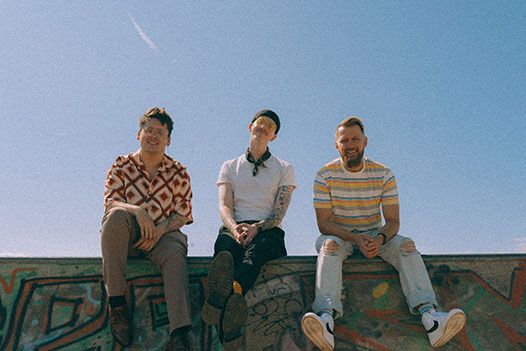 The attention to detail on this record is quite staggering; if you listen carefully, you can detect familiar production that we've come to love in previous Junior records, such as the use of tambourine to maintain the joyous energy they naturally exert, alongside soaring harmonies and the dual octave vocals of Mark Andrews. These blend perfectly with the use of finger tapping, classic chord structures, and Si Martin's punchy use of kick and toms in the verses.

If this wasn't enough, the chorus is utterly glorious – each lyric lifting the spirit like a hot air balloon. The interchanging lead vocals of Attard and Andrews also offer a beautifully balanced dynamic, which provides longevity in its impact on the listener.
In the past year, a nostalgic nod has certainly been a trend in mainstream music, but Junior has managed to break away from the often predictable and contrived efforts of some of the more established acts. In a nutshell, this single does what it says on the tin; Junior will never let us down.
"Never Let You Down" was released on 6th July and accompanied by a Guitar Hero-themed music video, as well as the ability for their fans to download a Clone Hero version of the song for them to play along to.
Links
https://www.musicofjunior.com
https://www.facebook.com/musicofjunior
Words by George Fullerton