Well, it has been at least a decade in the making but finally; those loveable Bournemouth rodents have laid down these ten tracks, album-style for our listening pleasure. Some said it would never happen, but I can confirm these are your starter for ten (see what I did there}?!
Well, it wouldn't be a Punk Rock album without one or two comedic moments and a plethora of swearing, so zip up and hold tight. "Put Your Clothes Back On" has a hilarious acapella intro before the song just explodes into life. Scratchy guitars (Jordan) keep the main beat, matched to Damian's cymbal-heavy bashing and a laid back, multi-layered vocal delivery. It's pacey throughout with noodly squalls in the bridge – the sound of a band "beating down the doors to make a strong entrance". A nice little humorous sample completes the song the way it began, and we're off! Popular live song "Bluebottle" comes next with the sound of Hammy (bass) chundering. More vocal layering amid huge hitting and an understated yet squally guitar. However, it's Jason's vocal that confuses me most? I don't know if it's the mix or post-production but I'm reminded of Tom Hingley (Inspiral Carpets). The radio-friendly sound on his vocal gives the album a fresh edge not heard in the live arena. Ok, so you may have guessed that lyrically it's about alcohol consumption, in this instance that puerile tipple from way back when 'Frosty Jacks'. No doubt the drink of choice when I first encountered them as "Pikey and the Gutter Rats" in 2007!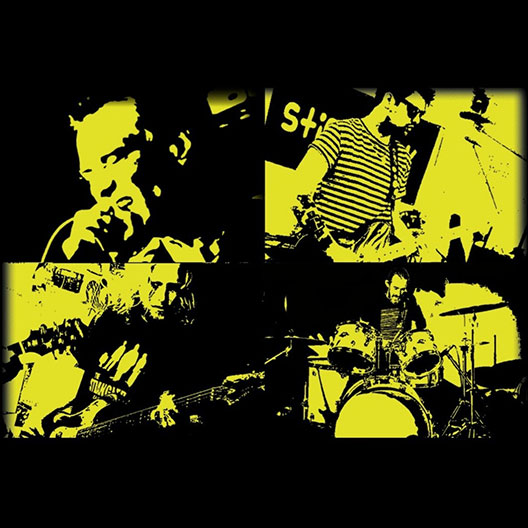 "Cellar" comes next and another edit – "Haunted House" anyone?! The crunching guitars remind me of early Anti Nowhere League and more cymbal-heavy hitting to match. It's anthemic in the chorus yet tongue-in-cheek in the lyrics. Lots of name-checking on a personal note and some more comedic moments. Jason's vocal returns to the more familiar Malcolm Owen-esque (Ruts) style and it's a great song ending. And the comedy doesn't end there. Hammy takes centre stage once more, humorously opening "Stephen", a tale of a seedy Politician with a double life – this is the sound of a band really enjoying themselves. The heavy bass (Hammy) and clangy guitar lines are dominated by Damian's (drums) huge hitting, yet the bridge allows a slight diversion into some Ruts DC styling (albeit briefly) as it continues to its conclusion.
A wailing police siren announces their oldest song "Turn To Dust" with the chiming guitars dominating the throbbing bass, and yet more skin pounding from Damian. Those guitar squalls of earlier tracks take on an altogether darker tone, yet the vocals briefly remind me of early DK/Misfits. The lyrics are about a historic local murder, hence the overall eerie feel throughout. Even the noodling in the bridge hints at a more Dirty Rock 'n Roll slant, but it doesn't last as the power returns. "Porno George" is a playful little number, the guitars clang away amid the huge snare sound, yet the vocal has a clear and audible snarl that is again (dare I suggest) radio-friendly. Another noodly bridge is bettered only by the crashing cymbal-led drums that power it to its conclusion.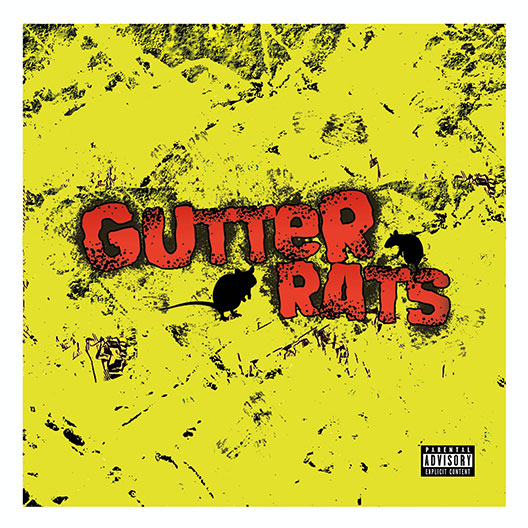 "Mushroom Cloud" dispenses with any tomfoolery in its opening, instead opting for multi-layered vocals and chord structures. The twisted chords in the bridge give it a strong 2nd Wave Punk sound, but those vocals once again sound so clean. It's a cautionary tale if you hadn't guessed about the perils of using "Magic Mushrooms". "Hanging Tree" is more personal with its warped guitar intro – it has a strange Post/Punk; Goth feel, notably in the haunting vocal. It is quite a departure from the previous seven songs, briefly reminding me of Phantasmagoria-era Damned.
"Hideaway" returns the fun-Punk element of their repertoire, replete with customary swearing! It's a well-known live favourite that keeps the power in its more pure form. The bass throbs in the bridge while the guitar chords stretch before it noodles to its conclusion. 'Bin Bags' ends this collection with furious guitars as they go out on a high. This is 90mph; balls to the wall, adrenaline-fuelled Punk with a Yank twist (think early DK). Upon reaching its conclusion it morphs into what can only be described as a hidden-track that isn't hiding! Confused? I was too – even more so with it being acoustic!
On this their (long-awaited) debut, they have pooled together their best ten songs from a two-decade career and delivered them in a polished manner. If you are a regular at their gigs then this will sound clean by comparison, notably the main vocal; I just can't get the sound of Tom Hingley's vocal out of my head! However, they cover a wide range of topics and the samples/edits that open most of the songs convey humour they are eager to promote.
I have long championed Gutter Rats as the best Punk band in Bournemouth. There have been few line-up changes over the years & with the three quarters 'Ayriss contingent' they (IMO) have their most solid line-up yet. Hopefully, with an album finally under their belts they will spread their wings a little, play out of town more and secure that all-important slot at Rebellion that seems to be the ambition of many of their peers. Rome wasn't built in a day but post/Covid-19, the musical world is their oyster.
You can purchase the album here.
Track Listing
Put Your Clothes Back On
Bluebottle
Cellar
Stephen
Turn to Dust
Porno George
Mushroom Cloud
Hanging Tree
Hideaway
Bin Bags
Band Members
Jason Ayriss – Vocals/ Guitar
Adam Harmer – Bass
Jordan Ayriss – Guitar
Damien Ayriss – Drums
Links
https://gutterrats.bandcamp.com
https://www.facebook.com/gutterratsuk
Words by Ross A. Ferrone.