News: "Food For Thought" Gala Fundraiser Announce March Musical Online Extravaganza
on
February 20th, 2021
at
17:56
Featuring: Helena Mace, Alison Oliver, Susie Kimber, Annie Filler, Susan Gouveia, Judy Gosler, Samantha Singer, Gem Rose, Polly Morris,Kimari Raven, Susan Thomas, Sara Haris, Kelly Lorraine Rosewarn, Naomi Payne, Evie Armour & Magdelana Atkinson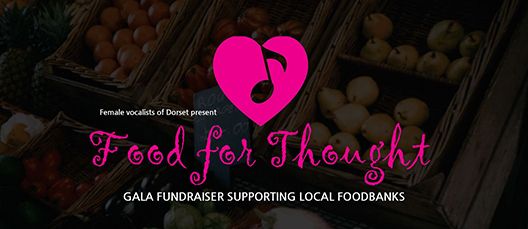 "Food For Thought" is an online Gala Fundraiser supporting the Faithworks Wessex project to raise money for Bournemouth, Poole & Christchurch food banks. The event will be streamed on YouTube and Hangover Hill TV starting at 5.30pm on Saturday 20th March 2021. 16 of our best known female singers and performers in the Bournemouth, Poole and surrounding areas have been gathered to entertain you for the whole evening, to raise money for local food banks which is part of the Faithworks Wessex project providing food, support and help to people and families that are struggling to live, eat and survive from day to day.
Viewers can donate through our donate button on our facebook page, up to and throughout the event and on into late Sun evening. You can donate here.
There is a real feast of eclectic music, everything from covers and original music ranging from musical theatre, pop, rock, vintage, blues, country, jazz and soul with a touch of comedy thrown in. It's set to a great evening not only to raise much-needed money, especially through this period, where we are all going through difficult times, where so many people have lost their jobs and income and can't afford to put food on the table but also to lift spirits through the joy of music. Many of our talented performers have been equally, badly affected by the pandemic and are suffering from the loss of income and mental health problems due to the entertainments industry coming to a complete standstill.
The ladies are all so pleased to have been asked to perform and support this great cause and to use their skills to bring a bit of joy and light into this uncertain time. After all, anyone could find themselves, from any walk of life unable to provide basic necessities such as food for their family. The event is the brainchild of Dorset singer and vocal coach Judy Gosler and with the help of musician and producer Matt Black of Hangover Hill Studios plus her talented husband designer, photographer, musician Richard Gosler who is head of Phoenix Digital Media, who have made the idea a reality.
You can find all the info here, but also Facebook and Twitter.