News: Ferocious Dog Unveil A Brand New Video "The Hope"
on
October 14th, 2021
at
19:05
to coincide with World Mental Health Day

To coincide with World Mental Health day Ferocious Dog unveil a brand new video for "The Hope", the title track from their forthcoming new album released on 15th October, on Graphite Records.
"The Hope is exactly what it says on the tin. It's a song that shows you when things are at their very darkest, there's always a light at the end of the tunnel. There's always help, there's always hope!
The subject matter is probably at it's most poignant right now with what's happening with the world." – Ferocious Dog.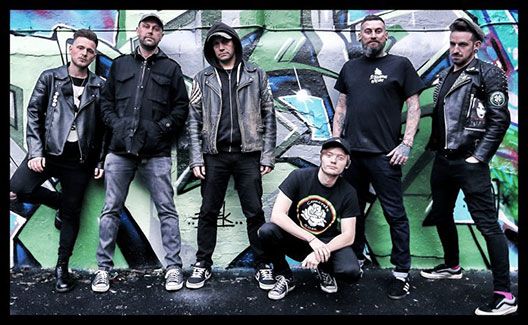 "The Hope" also includes previous singles "Broken Soldier" and "Petnrich Rising" along with the ever-present traditional cover, this time, with Hazel O'Connor for "Will You". The album flows irresistibly through tales of historical observations to biting commentary on the plights facing the world today. The songs follow a rollercoaster of pace and sentiment which will have you wanting to mosh one moment before having a moment to contemplate.
A great follow-up to the album Fake News & Propaganda – Ferocious Dog seems to have the knack of evolving their sound enough to pique your interest, without losing any of the sound or attitude that made you fall in love with them in the first place. Once they're allowed out to play again they've given themselves a real headache in trying to pick a setlist from their now burgeoning back catalogue.

The Hope carries on in the strong tradition of Ferocious Dog albums, with thought-provoking and politically charged lyrics, seamlessly combining with dynamic and eclectic music. It is available to pre-order in usual CD and vinyl, with ticket and T-Shirt bundles available, plus an exclusive limited-edition green vinyl album, limited edition cassette and signed CDs here.
The Hope vinyl and standard CD tracklist
Port Isaac
Haul Away Joe
Pentrich Rising
Victims
Broken Soldier
The Hope
Exiled Life (The Chase)
Khatyn
1914
Born Under Punches
Punk Police
Slayed Traveller
Parting Glass
Digital album and deluxe digipack CD bonus tracks
Sea Shepherd
Will You (featuring Hazel O'Connor)
Digital album only bonus tracks
Mairi's Wedding pt.4.
1914 (Reprise)
Pre-order / pre-save The Hope go here.
Ferocious Dog are:
Ken Bonsall – Lead singer & acoustic guitar.
Dan Booth – Violin & lead vocals on some songs.
Johnny Edwards – Multi-instrumentalist.
Ryan Brooks – Guitar
John Alexander – Bassist
Alex Smith – Drummer
Links
https://ferociousdog.co.uk
https://www.facebook.com/FerociousDog