After the recent release of his single "Goodbye", Dorset-based singer/songwriter Taff Salter has released an intimate five-track EP entitled "A Different Me". The songs were born after Taff was set a few challenges by a friend and typically it doesn't really follow any real pattern or genre. The EP is an extremely personal account of some of the major things that have happened over the course of Taff's life and though some of the lyrics have been hard to write, they act as personal therapy by getting unspoken things out into the open. To date his musical achievements have been varied, most people know him as a member of Hawkeye Houlihan's band Milk Machine. He's also a former member of Goth band Vampyre Heart; and a festival host as well as a solo singer-songwriter performing on a number of stages.
The first track "A Different Kind of Me" kicks things off with a funky bass line, coupled with Bluesy guitar and a very non-Taff-style vocal – it's almost as if he is trying to disguise his usual voice with a song that sets the scene of who he used to be. Imagine our hero Taff dressed in a dinner suit with a bow tie, his hair neatly tied back in a ponytail and a red rose in his mouth…..a sort of Welsh James Bond, well more Johnny English to be exact in Taff's case but you cannot fault him in the romantic stakes. "All of My Time" is enough to choke up the most hardened person. It's the story of how he met his wife Angie, the emotive guitar, and the even more emotional lyrical content show how this Romeo sealed the deal.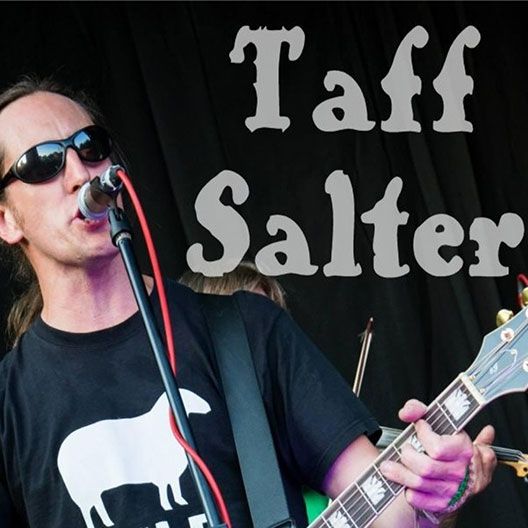 "My Child" displays how the relationship with Angie has blossomed and is dedicated to Taff's three children. The song was written and recorded on 3rd August with the intention of a 4th verse, tragically later that day their daughter Niyah-Rose was stillborn. The song is powerfully touching and something in later years the children can keep as a personal dedication of their father's love. The chord progression reminds me a little of Bob Dylan's "Knockin' on Heaven's Door", the guitar combines with cello and touching lyrics of a clearly dedicated Father….. "You Always Be my Child".
"Where We Are – Mike" is a 2-parter song; it has a nice sweeping progressive instrumental opening, setting the tone with gentle rhythms and atmospheric guitars. It is then completely turned on its head by a punky-metal story about a friend's ongoing battles with mental health, talk about a song having two very different sides of a story.
"The Story" shows Taff once again putting on the metal war paint to drive down a previous avenue in his life, with an Alice Cooper/Megadeth influenced track with a Rock-influenced chugging guitar and hard hit rhythms. The final track is Taff's first festive effort called "This is Christmas", a track that features all the trimmings of Christmas: jingle bells, church bells and even a little hint of the man himself Santa Claus. The lyrics describe a typical blissful Christmas day in the Morse household….and once the family all learn the lyrics I can imagine them all singing it together around the tree on Christmas eve….a lovely legacy to start.
Track Listing
A Different Kind of Me
All of My Time
My Child
Where We Are – Mike
The Story
This Is Christmas
My EP (A Different Me) will be released on 1st November on major streaming platforms iTunes, Amazon Music and Bandcamp.
Links
https://taffsalter.wixsite.com/music
https://www.facebook.com/taffsaltermusic
Words by David Chinery (Chinners).